In honour of his Global Business & Interfaith Peace Award, we take a look at the journey of Cultural Infusion's founder.
Shaped by Multicultural Australia
As child of Greek migrants growing up in Melbourne's Western suburbs in the 1960s and 1970s, Peter, born Panagiotis Mousaferiadis, was shaped by the multicultural landscape that surrounded him.
He has 30 years' experience across different dimensions of culture and arts, first as a musician, conductor and composer, then as a creative director and producer and, now, as an innovator of data-driven mapping with the world-first platform Diversity Atlas.
Building Global Business Harmony
Using relationships and connections, Peter is dedicated to building global harmony through culture to create a caring, compassionate and connected world. This dedication was this week awarded at The Global Business & Interfaith Peace Awards, sponsored by The Religious Freedom & Business Foundation in cooperation with the United Nations Global Compact's Business for Peace initiative.
"The award recognises organisations and leaders throughout the world, who are able to embrace religious expression within their organisations, and those who are advocating for it and recognises the importance of being able to embrace religious expression and how that leads to better productivity and greater social occasion," Peter explains.
"Today, more than ever, we're living in these globalised world. In these pluralistic communities and multi-religious settings, we have to be able to open ourselves up to being able to embrace the other."
Find someone not like you
"Please find someone who is totally different to you, different social status, different ideology, different culture, different ability, different worldview, different age and try to make peace through compassion, empathy and understand them better. You'll notice before too long you have a lot more in common than you realise."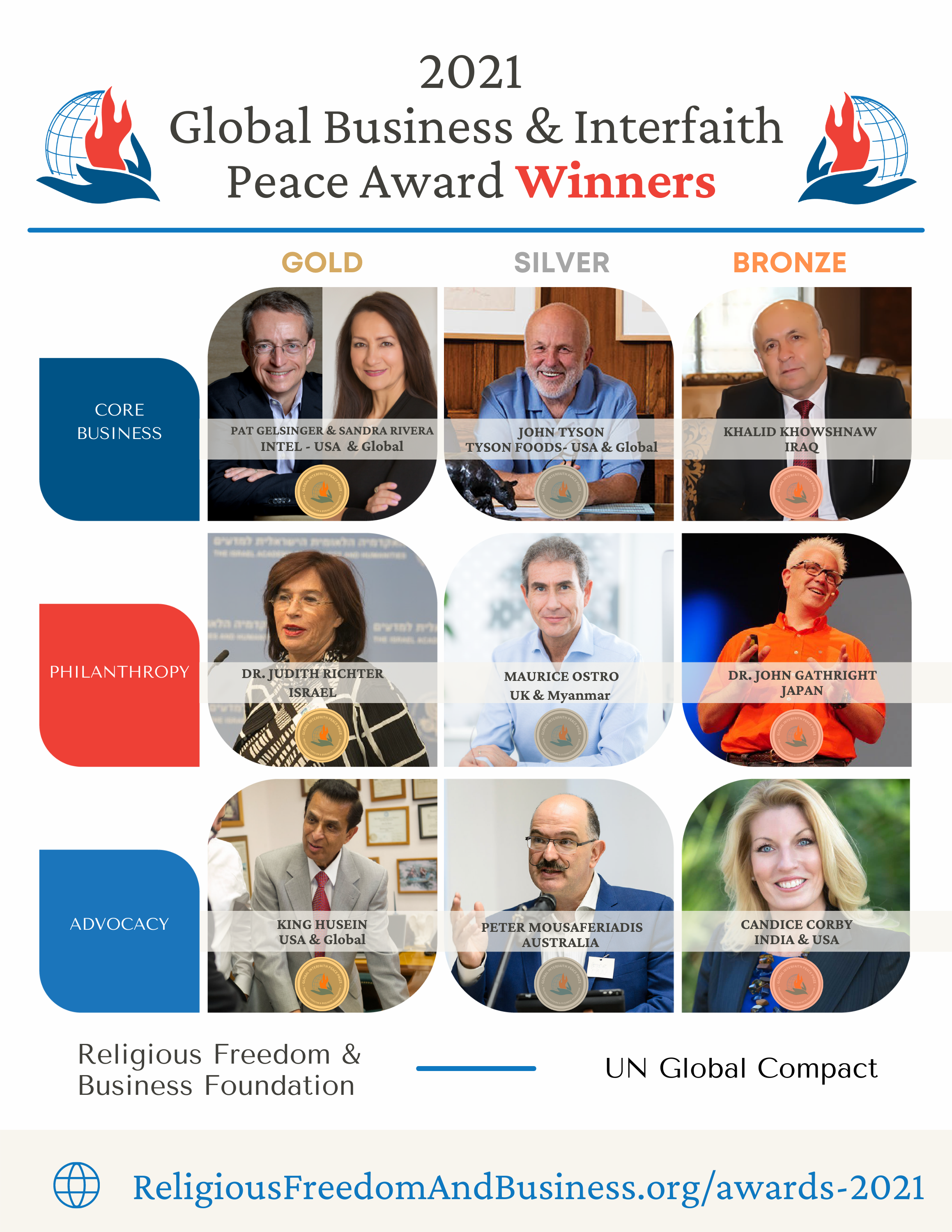 Peter was awarded alongside global business leaders including Tyson Foods Chairman John Tyson and Intel CEOs Pat Gelsinger and Sandra Rivera. Ten business men and women from UK, US, Iraq, Israel, India, Australia, and Japan were honoured for their efforts to bridge cultural and religious divides.
Recognising individuals for their contributions to peaceful and inclusive societies, Peter was awarded the silver medal for advocacy for his work as a pioneer in using cultural and artistic expression as a means of promoting social cohesion and interfaith understanding.
The Role of Diversity Atlas
The concept of Cultural Infusion, the parent company of Diversity Atlas, was born out of the idea that culture can infuse into a society by allowing ideas to permeate the community.
Cultural Infusion's Diversity Atlas platform is a world-first data analytics tool able to provide comprehensive insights into the extent and type of cultural and demographic dimensions of diversity. The survey platform is now being used by think tanks and a range of multinationals to map their global workforce. Diversity Atlas is helping organisations across the globe to make their settings more equitable, inclusive and representative through a data-driven approach.
It allows teams and organisations to measure and understand the differences and connections between diverse groups thereby acting as a catalyst for better performance and equity. It features more than 8500 religions and branches, 8000 cultures and more than 8000 speech communities and languages.
The Global Business & Interfaith Peace Awards
The Global Business & Interfaith Peace Awards are held in tandem with the opening ceremony of the Paralympic Games. The 2021 jury comprises high-level experts, including from the European Union; the NGO religious freedom community; and the business and peace community.
Recognising business leadership in advancing interfaith understanding is at the core of the awards. Current or past CEOs, who have demonstrated leadership in championing interfaith understanding and peace are eligible.
Cultural Infusion's work has secured more than 15 international awards and an official partner of the Australian National Commission for UNESCO. Cultural Infusion delivers education programs to an annual audience of 350,000 students and a range of consultancy programs and services to clients across the globe.