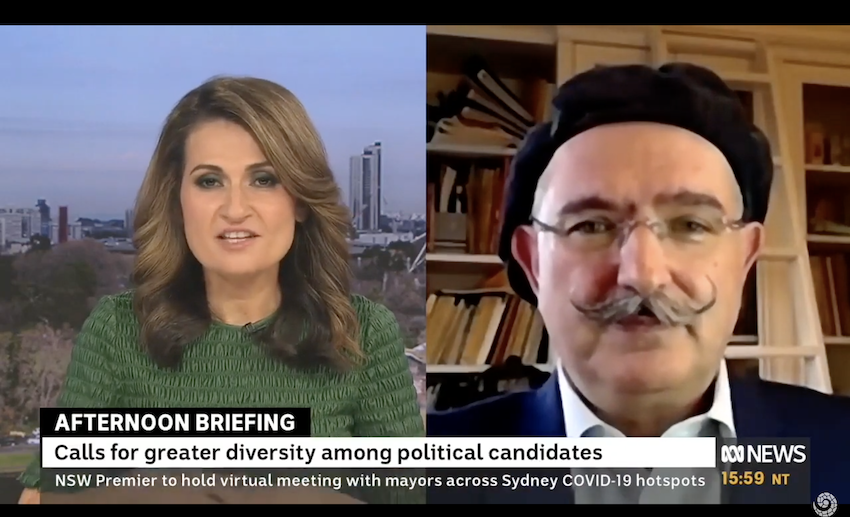 Discussing diversity quotas in the Australian government: Cultural Infusion's CEO and founder, Peter Mousaferiadis interviewed on the Afternoon Briefing with Patricia Karvelas.
Peter was interviewed about quotas in Parliament following the news that Tu Le, a young Western Sydney lawyer, was recently stood aside so former New South Wales Premier Kristina Keneally can run at the next federal election.
Watch the full video, or read the transcript below.
Representation in Politics
Patricia Karvelas
Tu Le has sparked calls for diversity partners in politics. Opposition Leader Anthony Albanese says he's spoken to sidelined Labour hopeful Tu Le and urged her to hang in there. And Mr Albanese says the Labour Party has done an enormous amount for diversity stakes.

Anthony Albanese
Kristina Keneally was born in the United States, came to Australia and is another great Australian success story of a migrant who has come here and became the New South Wales Premier.

Patricia Karvelas
Peter Mousaferiadis is an expert in cultural inclusion and my guest, welcome.

Peter Mousaferiadis
Good afternoon, Patricia, it's great to see you.

Patricia Karvelas
Firstly, what do you make of what Mr Albanese said?

Peter Mousaferiadis
Well, I think this is part of a bigger problem that we have in society, and that is that we don't value and understand diversity in all its forms. And so what I mean by that is, you know, there's maybe three problems is that we don't understand and value: mutuality and representation and, and the the benefits that representation brings to organisations. And we're not really taking a data driven approach to being able to create more representative society. So, you know, I'll be asking you, how's the community of fellow feeling at the moment about this?

Patricia Karvelas
Okay, what did you make of the decision, in fact, because the argument that's been made by Anthony Albanese and others is that you've got to look at the across the board approach, not just this one seat.

Peter Mousaferiadis
Yeah. And that's a good point that he's making. But, you know, I think we need to go back to the community again, and see how the community is feeling about this. And I think this is going to start to create some resentment, and probably some distress and distrust. And I think, you know, we also need to keep in mind that the hallmark of any successful democratic society is when when it's representative of its people, and if it's not, then it's basically failing. That's what I would say now.
Diversity Quotas in Government
Patricia Karvelas
Okay. Do you think a diversity quota should be looked at by political parties to prevent this sort of thing? And to have a more representative Parliament? The Labour Party did that, of course, with gender. It's discussing it on cultural diversity, but could it work?

Peter Mousaferiadis
Oh, absolutely. I wouldn't go as far as saying maybe quotas, but maybe targets, because you know, with quotas has sort of an implication that we need to mandate them. But I think we need to work towards how can we start to take a data driven approach towards, you know, targets that communities are going to start to feel that they have been more included, and represented in, you know, in all levels of government, and not only government, but also societies. And I think we need to go way beyond this gender diversity debate at the moment and start to take on an intersectional approach, where we start to look at gender against many other different dimensions of diversity, you know, ethnicity, age, different types of abilities, and so forth.
The Realm of White Men
Patricia Karvelas
Yeah, look, I understand that. But ultimately, the view I hear from women and people of culturally diverse backgrounds, sometimes women is that it often protects, if I can be blunt, white men. They continue to have a lot of the space and then it's the women and the culturally diverse and perhaps sometimes at the same, fighting it out for a small part of that pie. How do we get out of that headspace?

Peter Mousaferiadis
Well, once again, I think it's comes back to targets. But it's also beginning to talk about the opportunities that lie ahead of us when we start to become more representative. And there's been a ton of studies that have been done out there. I mean, just in the health sector, alone, Health West in Victoria began to do a whole lot of research. And what I discovered was that hospitals, which had workforces, which were more representative of the communities tended to have better health outcomes, and were more efficient now, which society is going to want better health outcomes for their communities.
Representation and Diversity
Patricia Karvelas
Okay, so diversity leads to better outcomes, because there's more of a connection. But obviously, diversity is a big, big, open question about what kind of cultural diversity you include. How do you do that in a way that's truly representative of the country?

Peter Mousaferiadis
Well you look at what we describe as mutuality, which is: you begin to look at the percentage of the community and then you go, "how can we start to develop targets that start to reflect the community." So it all comes back to data and I think we now live in an age where we can start to use technology and and also datasets that exist out there that allow us to start to work towards greater representation and I don't think it's a big ask. And all sectors of society to go, "You know what, by us becoming more representative, there's going to be so many benefits and they're not just going to be half outcomes, but we're going to be more productive, we're going to be more innovative and society is going to be benefit overall."

Patricia Karvelas
So by Labour making this decision to parachute Kristina Keneally into that seat that actually, accidentally I don't know if it was on purpose, spearheaded a big debate about multicultural diverse Parliament's right.

Peter Mousaferiadis
Yeah, absolutely. So let's start to look at, you know, the Federal Parliament, something like I think about 13 or 14% of Australia's population, you know, comes from an Asian background. And then if you start to look at, you know, the Australian Parliament, I think there's something like maybe five out of 227 members of parliament who have an Asian background. So I think there's a lot of work that's got to be done in, in representation. But I come back once again, to taking a data driven approach and the benefits and how communities are going to are ultimately going to receive the rewards out of this.

Patricia Karvelas
Thank you so much for joining us this afternoon.

Peter Mousaferiadis
Thank you very much Patricia.

Patricia Karvelas
Joining me there is Peter Mousaferiadis. He's an expert on cultural inclusion.