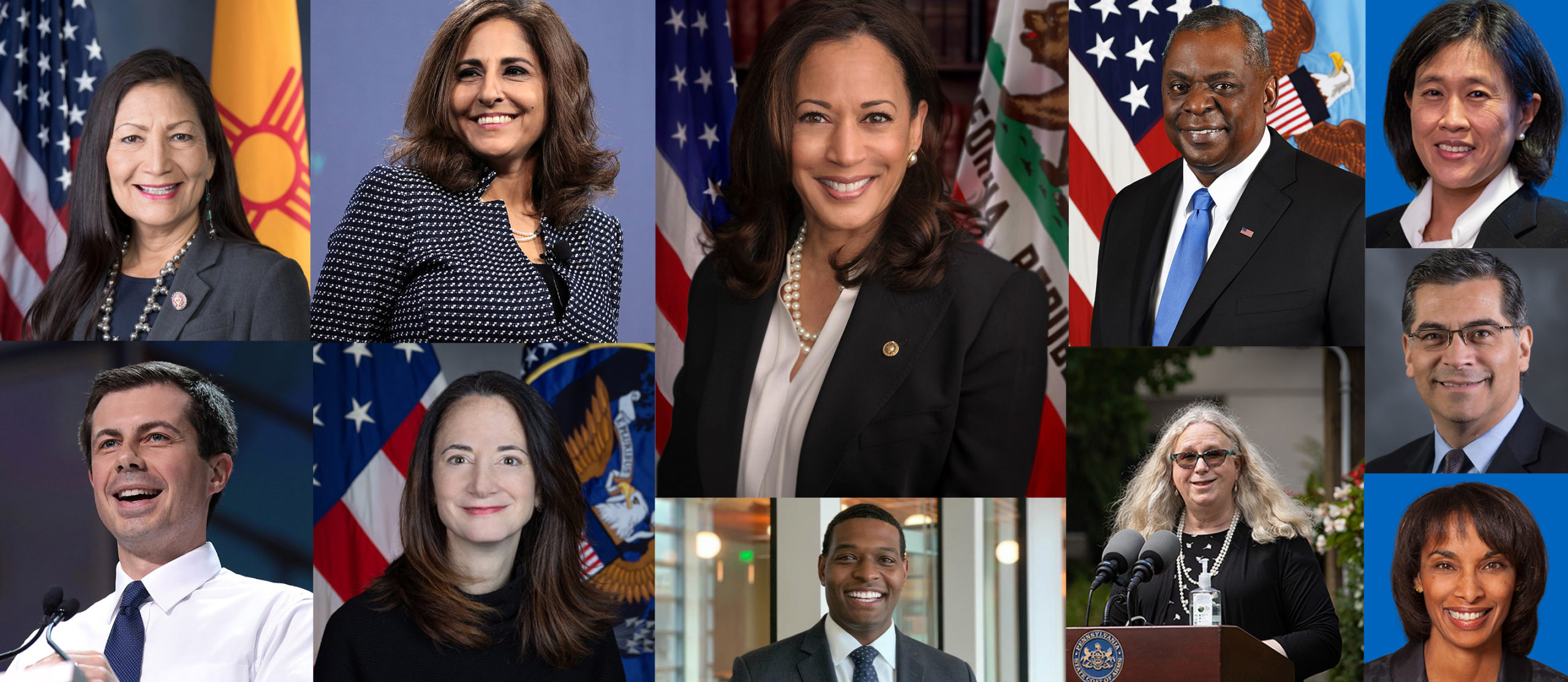 As a child of immigrant parents from Greece, I became acutely aware of how discriminatory societal attitudes undermined inclusion and equality at a young age. In the 50s, when my father arrived in Australia he had a moustache. Let me add, not quite like mine. At the movies people would meow, meow, others would give him strange looks and others would make fun of him. One day when he was walking home from the market with a box of grapes he was accosted by 3 men who for no reason surrounded him, poked at him, made fun of him, pulled on his moustache and beat him.
I asked my father. Why did you not react? Well firstly, there were three of them. What chance did I have? Did you feel angry afterwards Dad? No, I felt pity for them. I learnt valuable lessons about my identity and the meaning of belonging during my formative years, and I decided then and there that I wanted to be part of an Australia that welcomed people from all different backgrounds to contribute to our collective Australian society.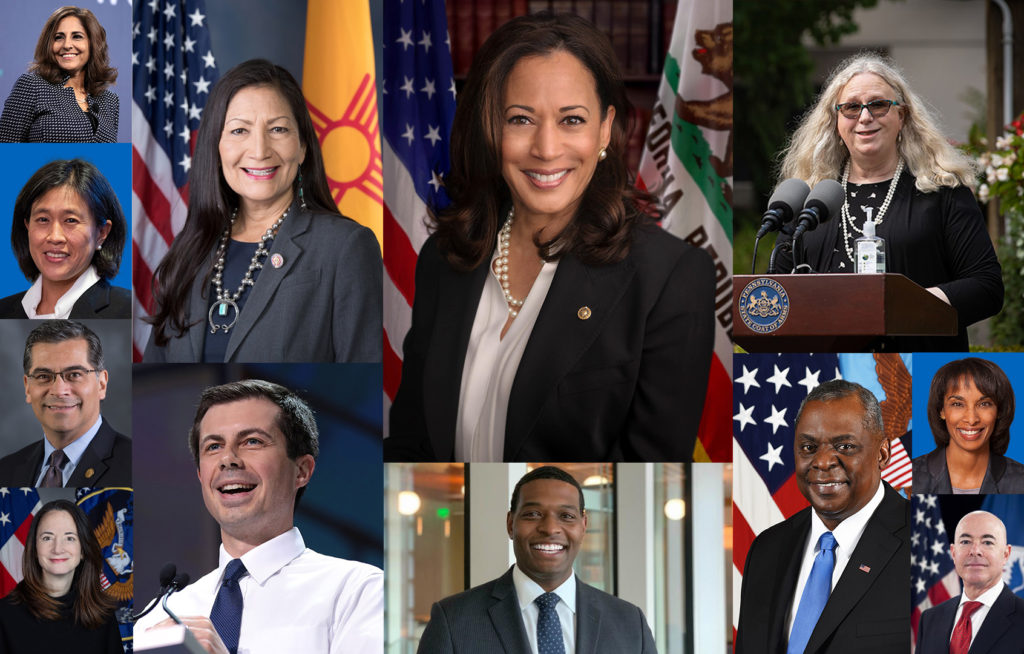 So when President Biden announced the most diverse and representative Cabinet in December 2020, I was thrilled to witness this historic moment, not only for the United States, but for the world. Until President Trump's election, the United States had been a beacon of hope for migrants and refugees fleeing conflict, poverty and persecution around the globe. With the Biden-Harris victory, the United States showed the world what it truly means to be an American — that there are no limits to the achievements one can aspire to. Democracy, for the first time, meant democracy for all, not just for a privileged class of citizens.
President Joe Biden's inauguration marks the beginning of an unprecedented era of diversity and representation at the highest levels of the U.S. government. Biden himself, is the oldest president to be inaugurated and the oldest sitting president. First Lady, Dr Jill Biden, will be the first to retain her job after stepping into the position.
Biden has elected to nominate the most diverse Cabinet in the history of the United States, with many historic barrier-breaking firsts. Vice President Kamala Harris is the first womxn, African American and Asian American to be sworn into the second highest office in the United States. Harris has broken multiple barriers, serving as San Francisco's first female district attorney and California's first womxn of colour to be elected Attorney General. Harris' husband, Dough Emhoff, will be the first man to step into the position of Second Gentlemen.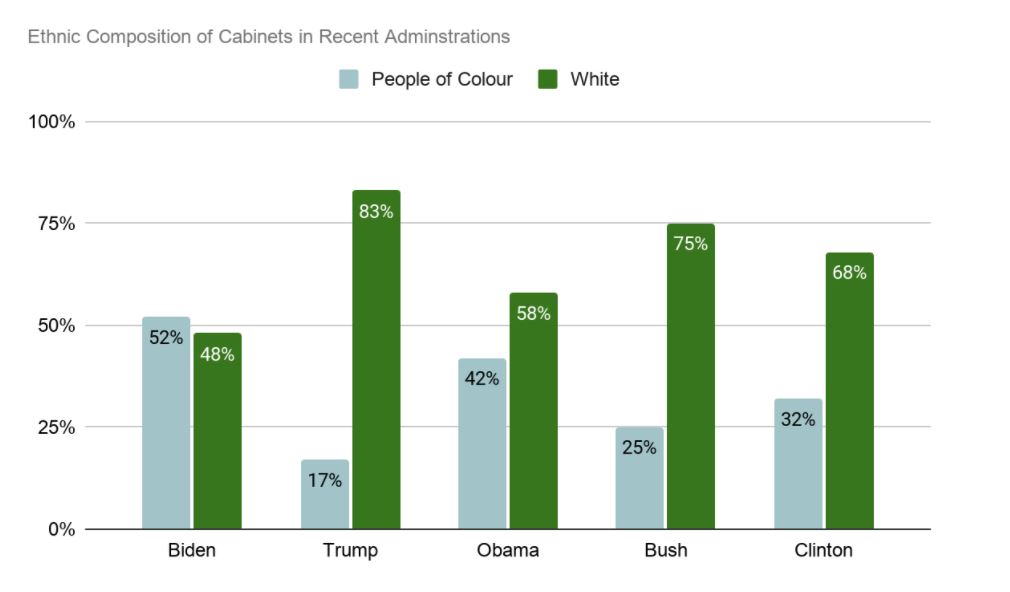 While Biden's Cabinet nominees do appear to be more diverse than his predecessors, there has been criticism that the President has concentrated mostly white cis-gender male advisors and nominees at the top of the Inner Cabinet hierarchy while putting forward minority candidates for less desirable portfolios, which they may not be most suited for.
Susan Rice, who served as President Obama's National Security Adviser, and has numerous foreign policy credentials appeared to have been "shoehorned" into leading the Domestic Policy Council, which focuses on infrastructure, racial injustice, immigration, healthcare and other domestic issues. While domestic policy is not entirely outside Rice's expertise, it seems disingenuous to assign a foreign policy expert, who happens to be a womxn of colour, to a domestic policy portfolio (in which people of colour are disproportionately affected).
Pete Buttigieg, the former Mayor of South Bend, Ind., has been nominated as the Secretary of Transportation. While Buttigieg has not previously been in charge of a major transportation or infrastructure portfolio, he performed admirably at his Senate Committee hearing, demonstrating well-versed knowledge of transportation and infrastructure related topics. However, one cannot help but suspect that while Biden was certainly a gracious winner for nominating one of his former rivals to a Cabinet role, he might have done so on the basis of political calculations more so than Buttigieg's past performance in his nominated portfolio.
Nonetheless, Biden's inclusion of diverse nominees and appointees are a welcome departure from Trump-era hyper conservatism, where cis-gender white males dominated leadership in the U.S. government. Former President Trump characterised African countries as "sh*thole countries", described white supremacist agitators as "very fine people", labelled Mexicans as drug dealers, criminals and rapists, signed an executive order banning transgender members from serving in the armed forces, and enforced a travel ban on seven Muslim-majority countries.
Biden has moved quickly to undo the many dis-inclusive policies under Trump, having signed executive orders on first day in office to reverse the transgender ban in the military, halt all deportations for 100 days and undo the 'Muslim travel ban'. Biden has also rescinded a Trump order barring federal agencies from receiving funding for diversity training and reversed Trump's anti-abortion 'global gag' rule, an order that prevents US agencies from funding any foreign organisation that provides abortion services to womxn.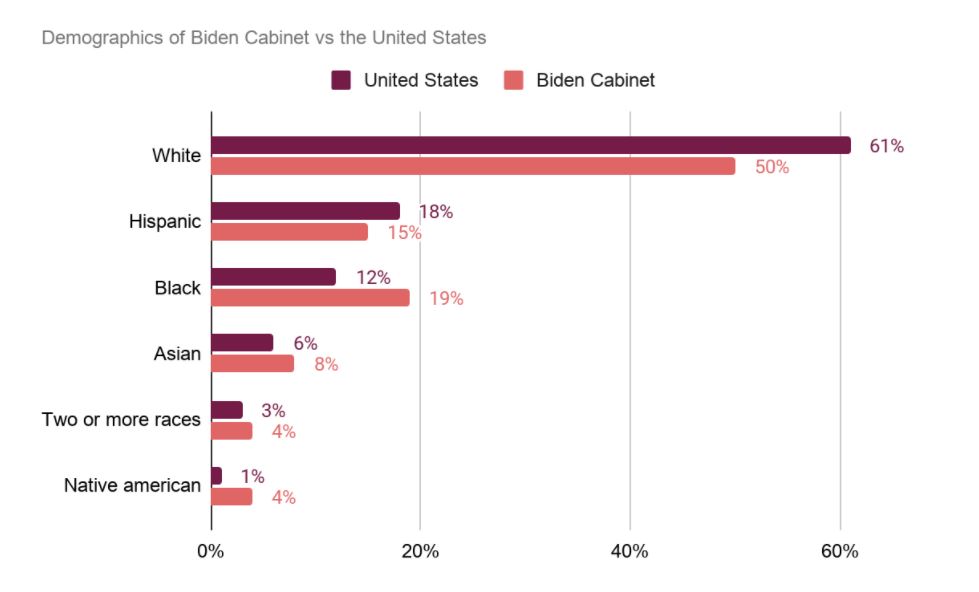 According to analysis conducted by the Brookings Institute, Biden appointed or nominated more womxn than his six predecessors going back to Reagan, and tied Obama for non-white Cabinet members (while Clinton exceeded both by a few percentage points). Notably, Biden performed far better on all measures of diversity, compared with his Republican predecessors, especially Trump, although Bush Jr had similar levels of diversity compared to Clinton.
Improving representation among leadership positions in the U.S. government brings about greater diversity of backgrounds and decision-making capacity, especially in portfolios where nominees or appointees are members of historically marginalised groups in the U.S. who engage these services on a day-to-day basis.
Having diverse members of leadership improves trust among the electorate and betters the effectiveness of government services, by not only enhancing performance through a diversity of perspectives, but also through reflective representation. No matter how symbolic, electorates with historically marginalised minorities will no doubt appreciate seeing 'one of their own' in high office. Black community groups and LGBTQIA+ leaders urged Biden to nominate or appoint more diverse candidates and remarkably this has eventuated in the most diverse Cabinet in the history of the United States.
Among Biden's Cabinet are numerous firsts:
Secretary of Treasury: Janet Yellen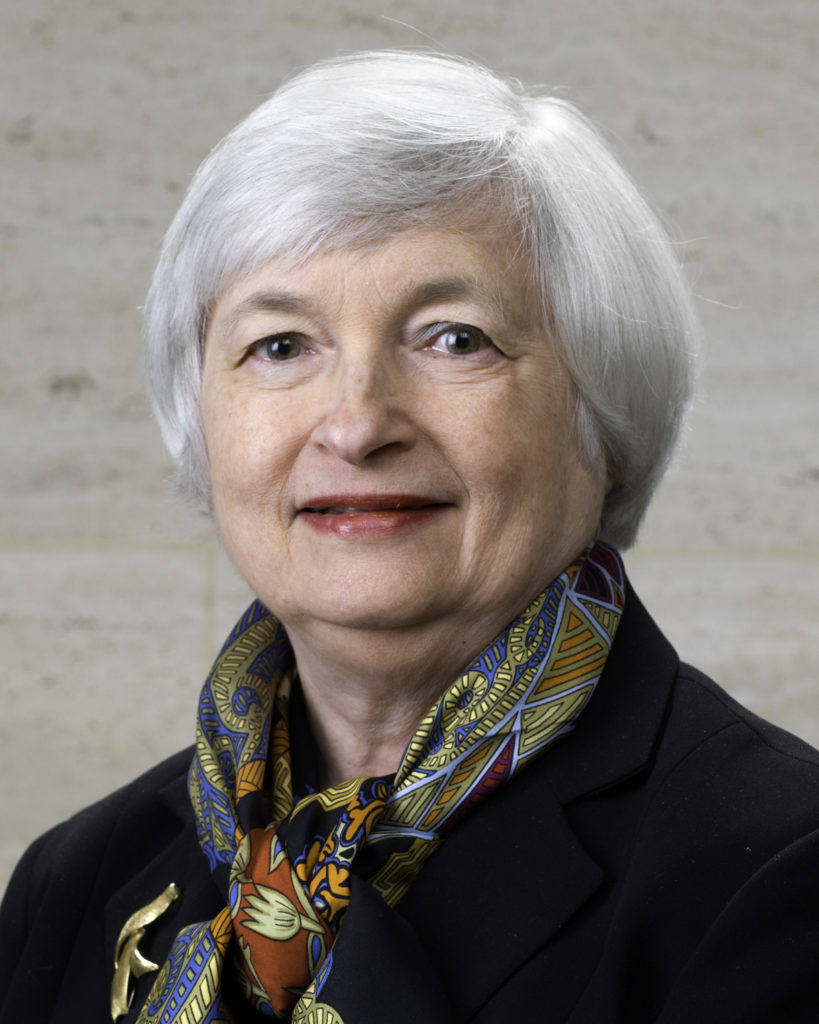 Janet Yellen was recently confirmed as the first womxn Secretary of Treasury in the history of the United States. Yellen already made history as the first womxn Chair of the Federal Reserve. She previously served for four years as the vice chair of the board, and president and chief executive officer of the Federal Reserve Bank of San Francisco for four years prior to that. Yellen was also Chair of the Council of Economic Advisers from during the Clinton administration.
Deputy Secretary of the Treasury: Adewale Adeyemo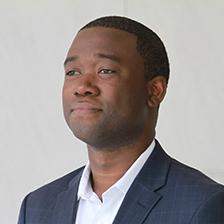 Nigerian-born Adewale Adeyemo is the first Black person to be nominated as Deputy Secretary of the Treasury. Adeyemo was most recently the President of the Obama Foundation and was appointed as Deputy National Security Advisor and Deputy Director of the National Economic Council during the Obama administration. He was also President Obama's senior international economic adviser and first Chief of Staff of the Consumer Financial Protection Bureau.
Chair of the Council of Economic Advisers: Cecilia Rouse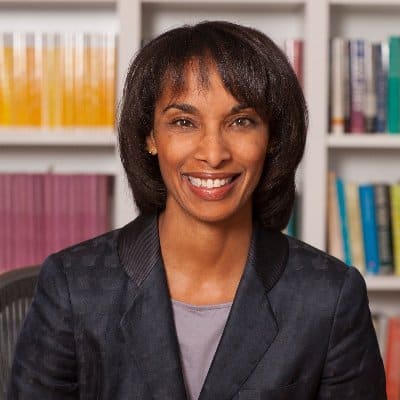 If confirmed, Cecilia Rouse would be the first womxn of color to chair the Council of Economic Advisers. Rouse is Dean of the Princeton School of Public and International Affairs and previously served as a member of President Obama's Council of Economic Advisers. She also worked at the National Economic Council in the Clinton administration as a special assistant to the president.
Director of the Office of Management and Budget: Neera Tanden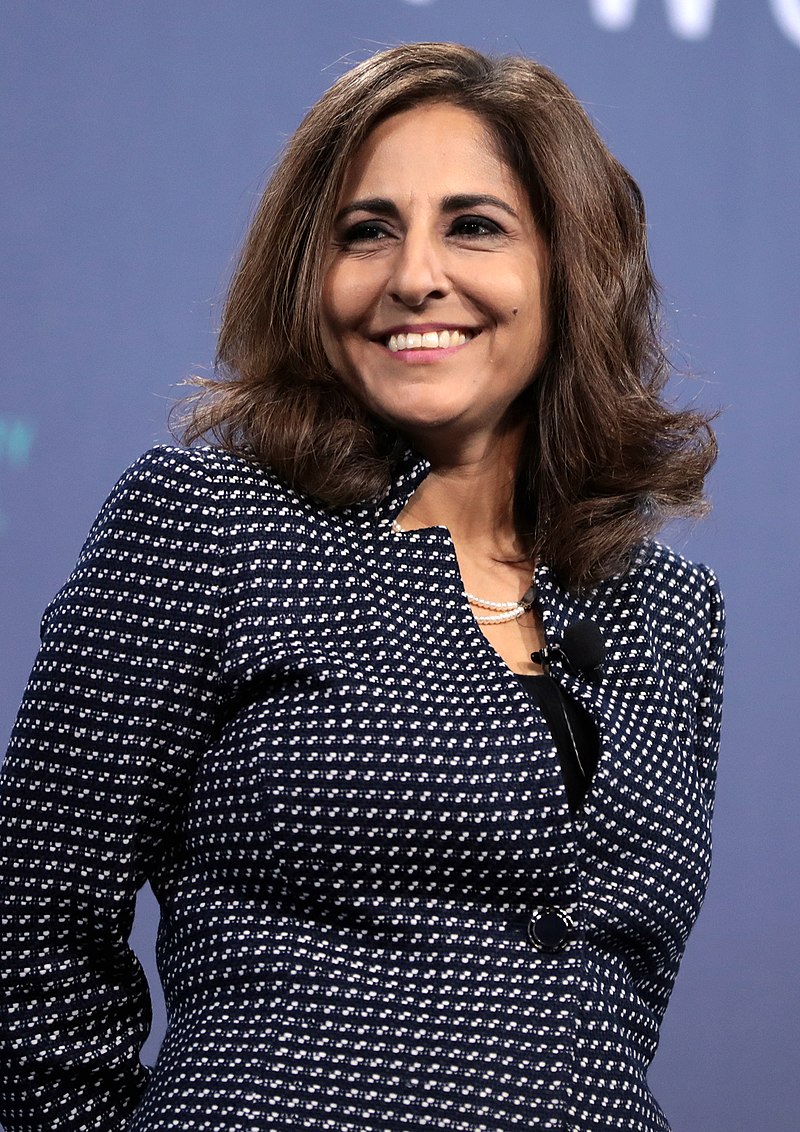 If confirmed, Neera Tanden would be the first womxn of color and first South Asian American to become Director of the Office of Management and Budget. Tanden is currently the CEO and president of the left-leaning Center for American Progress and previously served in the Obama and Clinton administrations. She was a senior adviser for health reform at the US Department of Health and Human Services, and also served as the director of domestic policy for the Obama campaign. She was the policy director for Hillary Clinton's first presidential campaign, and worked in Clinton's Senate office.
US Trade Representative: Katherine Tai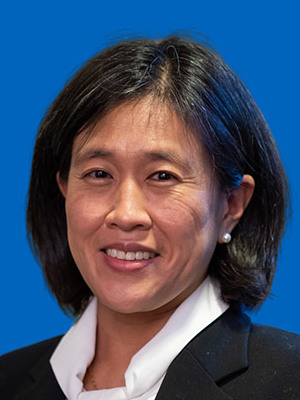 If confirmed, Katherine Tai would be the first Asian American and womxn of color to serve as US Trade Representative. Tai is currently Chief Trade Counsel for the House Committee on Ways and Means. Having overseen trade enforcement with China during the Obama administration, she is seen as an expert on China. Tai played a key role in negotiating trade policy for Democrats in the United States-Mexico-Canada Agreement, which came under Trump's administration and replaced the North American Free Trade Agreement.
Secretary of Defense: Lloyd Austin
General Lloyd Austin, recently became the first Black person to be confirmed as Secretary of Defense. Austin has broken numerous barriers in the military, which tends to be white and male at the top, with diverse soldiers in the lower ranks. As a lieutenant colonel, Austin became the first black soldier to be named operations officer of the 82nd Airborne Division. Austin was the first black soldier to command both an infantry division and Army Corps in combat; the first black officer to become vice chief of staff of the Army; and the first to lead US Central Command, overseeing US military forces in the Middle East.
Deputy Secretary of Defense: Kathleen Hicks
Kathleen Hicks, who served as Deputy Undersecretary of Defense for Policy during the Obama administration, will be the first womxn to serve as Deputy Defense Secretary, if confirmed. Hicks, who heads Biden's Pentagon transition team, is a think-tank expert on national security at the Center for Strategic and International Studies and is on the board of Aerospace Corporation. She also served as Deputy Undersecretary of Defense for Strategy, Plans and Forces during the Obama administration.
Secretary of Homeland Security: Alejandro Mayorkas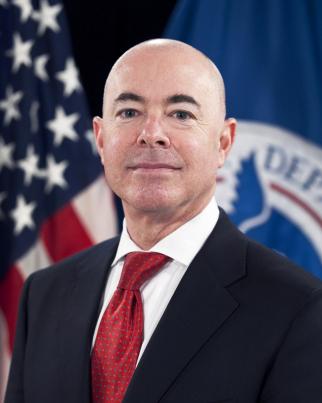 Alejandro Mayorkas, who served as Deputy Secretary of the Department of Homeland Security and Director of U.S. Citizenship and Immigration Services during the Obama administration, is the first Latinx and immigrant to be nominated as Secretary of Homeland Security. Born in Havana, Cuba, Mayorkas came to the United States as a political refugee when he was a child. During his tenure with the Obama administration, he was responsible for implementing the Deferred Action for Childhood Arrivals (DACA) program, which provided protection to immigrants brought to the U.S. illegally as children.
Director of National Intelligence: Avril Haines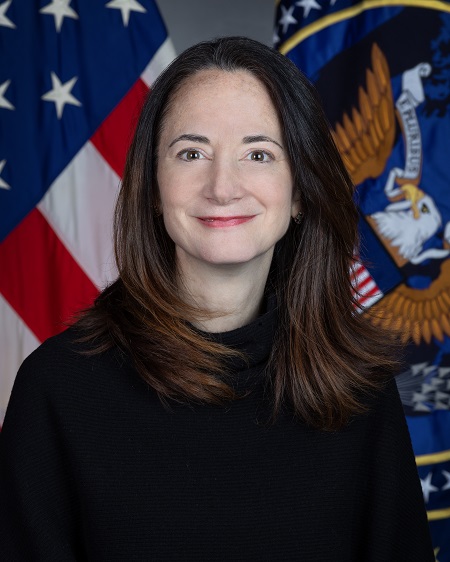 Avril Haines, who served as the first womxn Deputy Director of the CIA during the Obama administration, is the first womxn confirmed by the Senate as the Director of National Intelligence. Haines was also the first womxn to hold the position of Deputy National Security Adviser, under the Obama administration.
Secretary of Interior: Deb Haaland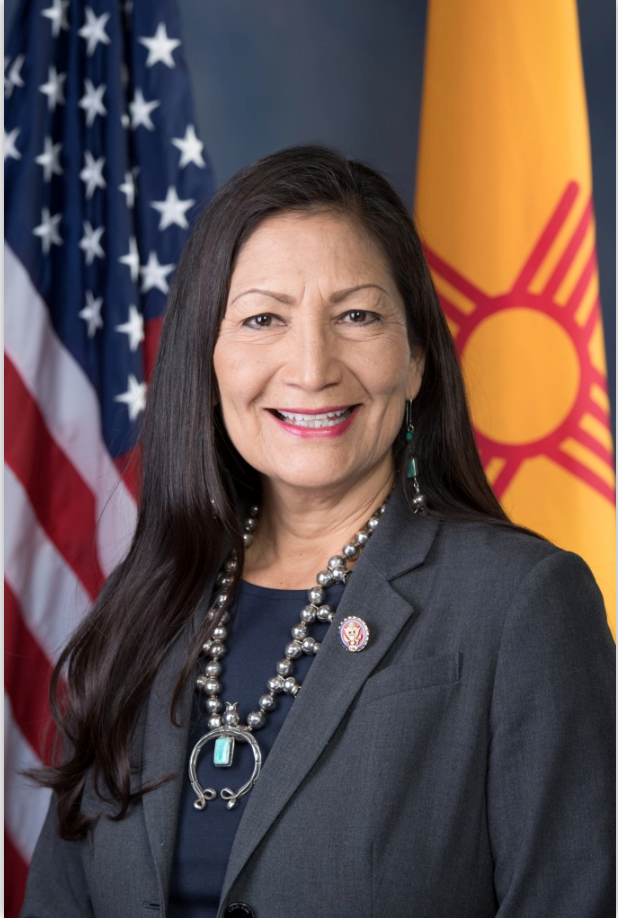 Rep. Deb Haaland of New Mexico is the first Native American to be nominated to serve in any cabinet position. Haaland is one of the two first inaugural Native American womxn to be elected and sworn in the House of Representatives. She garners significant support from the Native American community and brings with her a series of progressive credentials, from supporting the Green New Deal to Medicare for All.
EPA Administrator: Michael Regan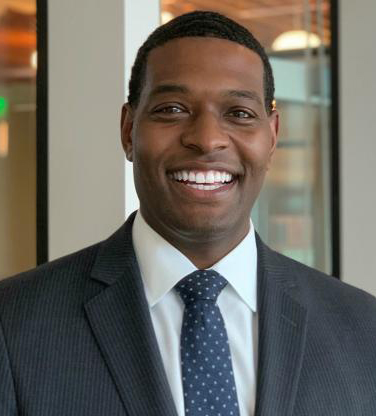 If confirmed by the Senate, Michael Regan would be the second African American and first Black man to lead the Environmental Protection Agency (EPA). Lisa Jackson was the first African American to head the agency, during the Obama administration. Regan worked at the EPA during the Clinton and Bush administrations. He is currently the Secretary of the North Carolina Department of Environmental Quality. Before that, he worked on clean energy initiatives for the Environmental Defense Fund, a national environmental advocacy group.
Secretary of Transport: Pete Buttigieg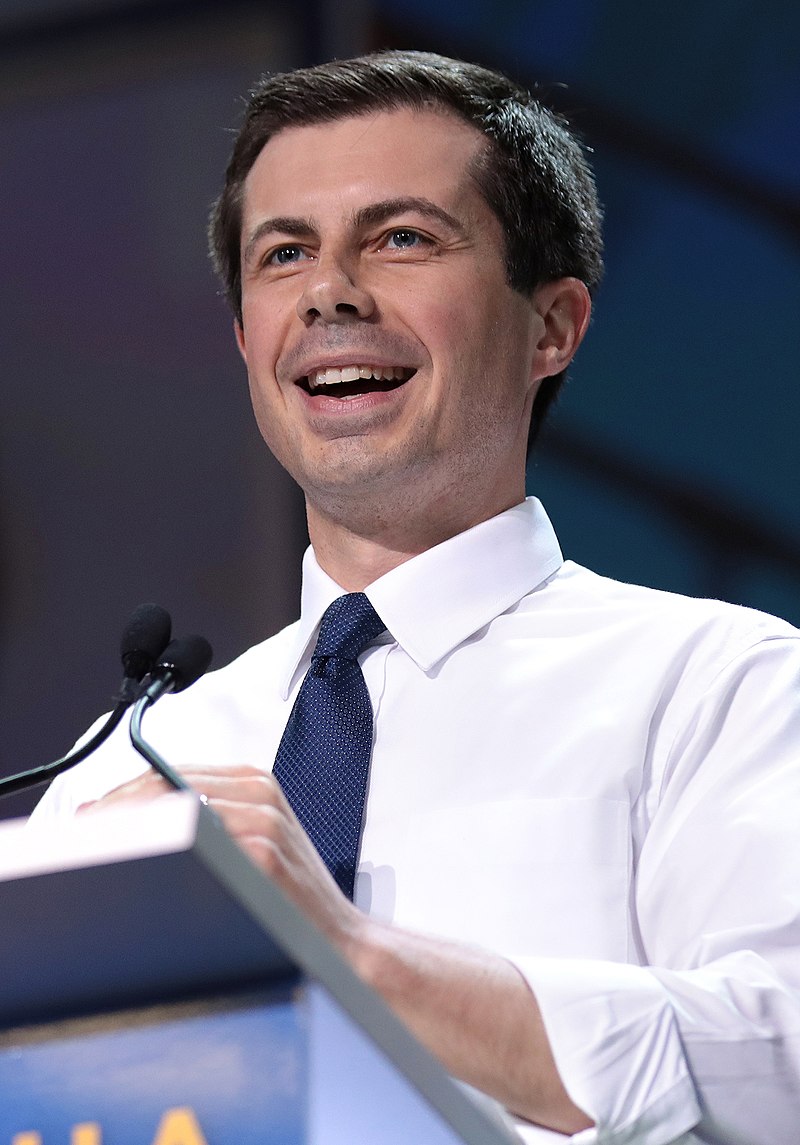 Pete Buttigieg, the former mayor of South Bend, Ind., and a rival of Joe Biden in the Democratic presidential primaries, if confirmed by the Senate, will be the first openly LGBTQIA+ Senate-confirmed Cabinet Secretary. He is slated to be confirmed as Secretary of Transport. Buttigieg paid homage to Clinton-era ambassadorial nominee, Ambassador James Hormel, whose nomination was blocked by Senate Republicans because of his sexuality. Buttigieg is also the youngest member of Biden's Cabinet thus far and the only one of Biden's former opponents from the 2020 presidential election to be nominated.
Secretary of Health and Human Services: Xavier Becerra
Xavier Becerra is the first Latinx to be nominated to lead the Department of Health Human Services. Becerra served 12-terms in the House of Representatives and went on to be appointed California's Attorney-General after Kamala Harris' election to the Senate. As Attorney-General, he fiercely defended the Affordable Care Act (also known as Obamacare) from President Trump's attempts to repeal it. Senate Republicans are reported to oppose his confirmation due to Becerra's pro-choice and pro-universal care positions.
Assistant Secretary Health: Dr Rachel Levine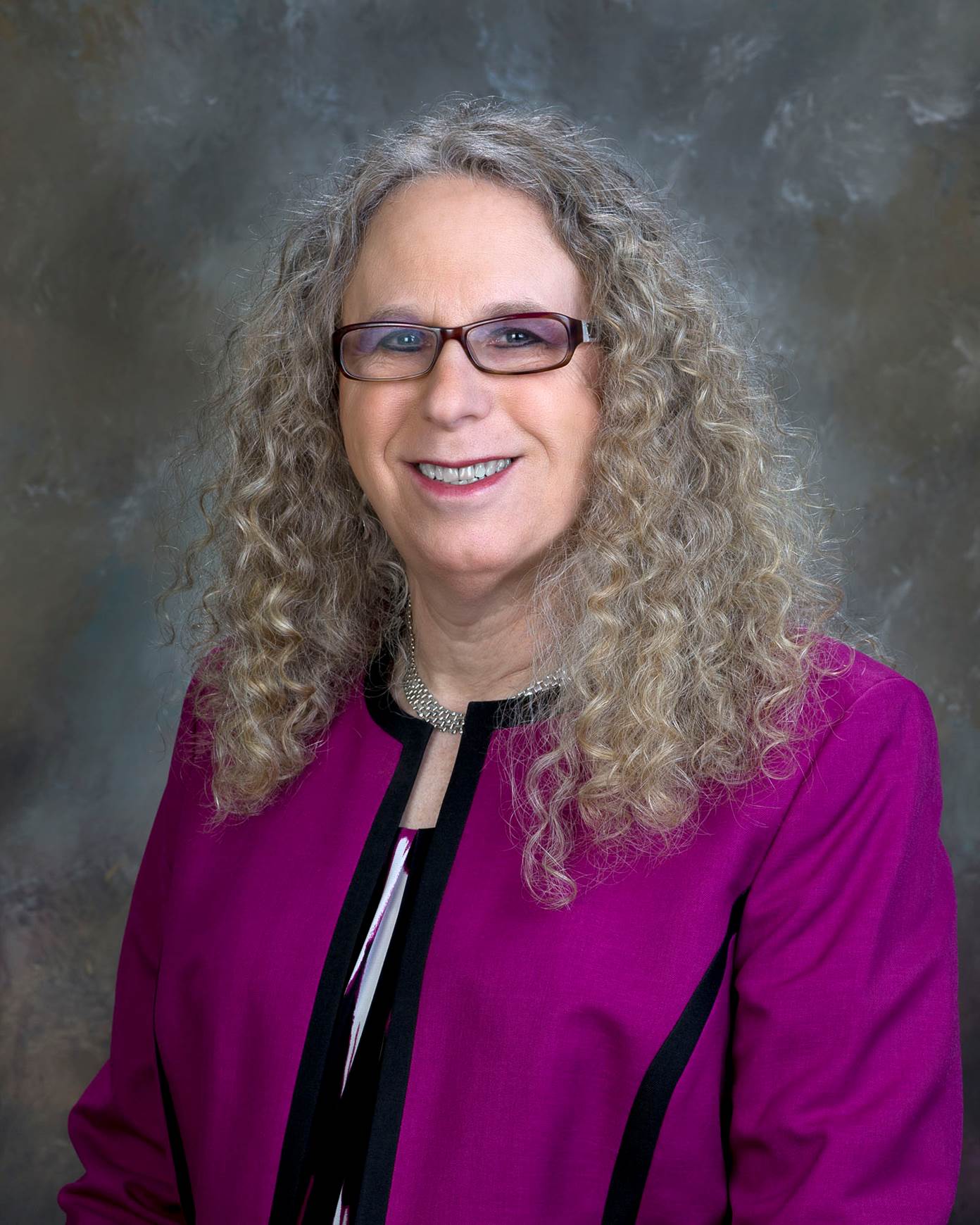 Biden recently announced that he will nominate Dr Rachel Levine as his Assistant Secretary of Health. If her nomination is approved, Levine, who is currently Pennsylvania's Secretary of Health, will become the first openly transgender federal official to be confirmed by the United States Senate.
White House Social Secretary: Carlos Elizondo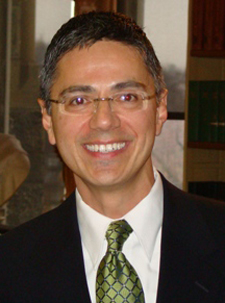 Carlos Elizondo, who served as special assistant to President Obama and social secretary to the Bidens during Obama's term, is the first Hispanic American and second openly LGBTQIA+ person to be appointed White House Social Secretary. Elizondo worked in the Clinton-Gore administration prior to appointment by President Obama.
White House Communications Team
In another first, Biden and Harris have appointed an all female communications team. Kate Bedingfield will serve as Biden's communications director, Jen Psaki will serve as his press secretary, and the rest of the team includes Pili Tobar, Karine Jean-Pierre, Symone Sanders, Ashley Etienne and Elizabeth Alexander.
How does this compare to the rest of the world?
New Zealand Prime Minister Jacinda Ardern also announced a new barrier-breaking cabinet, last November. Of the 20 members of the 'Inner Ministry', five are indigenous Maori and eight are women. Nanaia Mahutais New Zealand's first ever female foreign minister and Grant Robertson is the first openly gay Deputy Prime Minister.
Last year, UK Prime Minister Boris Johnson chose the most racially diverse Cabinet in the history of the United Kingdom.
In 2015, Canadian Prime Minister Justin Trudeau selected a cabinet that for the first time had equal numbers of men and women as well as racial diversity.
The Business Case for Diversity and Inclusion
There is a well-established business case for diversity. An article by Forbes reported that a balance of perspectives leads to more innovation, 87% better decisions, and often prevents big mistakes. A 2015 McKinsey report on 366 public companies found that those in the top quartile for ethnic and racial diversity in management were 35% more likely to have financial returns above their industry mean. Additionally, those in the top quartile for gender diversity were 15% more likely to have returns above the industry mean. Another McKinsey study found that U.S. public companies with diverse executive boards have a 95% higher return on equity than those with homogeneous boards.
Yet another study by the Boston Consulting Group found that increasing the diversity of leadership teams leads to improved financial performance. Recent research from McKinsey underscores the fact that diversity is good for a business's bottom line. In fact, ethnically diverse companies were shown to be 35% more likely to have financial returns above the national industry median. Nearly 95% of directors agree that diversity brings unique perspectives to the boardroom, while 84% believe it enhances board performance, according to the PwC 2018 Annual Corporate Directors Survey.
Mutuality is used to describe the extent to which an organisation's diversity or workforce is a reflection of the diversity that exists in the community served by the organization. The description of this term is often confused with workforce diversity. However, an organization's workforce may be highly diverse yet it may not be a reflection of the diversity that exists in the community that it serves. People from diverse communities are more likely to access health and community services and more likely to report satisfaction with improved health outcomes, according to Dr Martin Plowman in his interview with Diversity Atlas.
Promoting diversity doesn't guarantee an equitable workplace. Several instances of promoting diversity are limited to representation. Therefore, if diversity is limited to the external portrayal of distinction rather than being constituted in a long-lasting process of working to closer mutuality with society, it can easily become tokenistic. For real change to occur, diversity should be embedded into the organization's primary practices. Learn how your organisation can embrace diversity, mutuality and inclusion by contacting Chief Experience Officer, Michael Walmsley.
The use of 'x' in womxn and Latinx
We have elected to use the most inclusive spellings for womxn and Latinx. The spelling of womxn is to signify an emancipatory liberation from patriarchal oppression by using "x" to replace the vowel in womxn and to differentiate the spelling from man/men so as to remove any connotations, whether epistemological, linguistic or religious, that womxn are derivative of man/men. The use of the "x" is also inclusive of trans-womxn and gender-fluid womxn.
Previous spellings of womxn have been tried including 'womyn', however, this term has been co-opted by trans-exclusionary radical feminists (TERF). Our use of the term Latinx is also borne of inclusion, as Latino (the masculine form) and Latina (the feminine form) do not adequately encompass all gender identities, nor do they describe Latinx persons using an inclusive gender-neutral word.